The People
David Rossi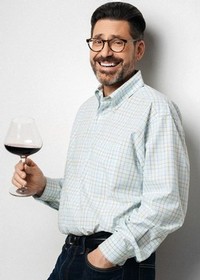 As a young man, David Rossi used to watch "The New Yankee Workshop" in fascination as master craftsman Norm Abram would take a piece of wood and turn it into a meticulously wrought dresser, chest or bookshelf. Though he had no woodworking skills of his own, David admired the perfection of the detail, the elegance of the joinery and the obsessive commitment to craft. Most of all, he admired Abram's ability to start with a vision and the finest raw materials to create something enduring, original and of lasting value.
In the early 1990s, David found his own craft when he started making small lots of wine in his basement in New Jersey. More than being just a simple home winemaker, he soon began flying in Riesling and Gewurztraminer grapes from Washington, Malbec from Argentina, and Petite Sirah, Syrah, Cabernet Sauvignon and Pinot Noir from California, ultimately making up to forty 10-gallon lots of wine each vintage. He also formed relationships with local winegrowers in Monmouth County N.J., helped to plant new vineyards and gained extensive hands-on viticultural experience.
With a basement overflowing with professional winemaking equipment, a fully outfitted winemaking library and laboratory, and a shelf full of national amateur winemaking awards, David recognized that it was time to take the next step. As a self-taught winemaker, he had been able to develop his own style and palate, uninfluenced by winemaking instructors or the commercial goals of a winery. What he appreciated most in a wine was balance, complexity and ageability. Though he enjoyed working with a multitude of grape varieties, when it came to California Pinot Noir, he felt there was a void in the style of wine he loved. In this void, he saw an opportunity to contribute something worthwhile and distinctive, and in 2005, he founded Fulcrum Wines.
For those who appreciate poise and complexity, David has emerged as one of California's most exciting Pinot Noir winemakers, and one of its best-kept secrets. Vintage after vintage, Fulcrum's Pinot Noir's are among the finest from their appellations. The reason for this is simple; David creates each wine with a profound sense of purpose and place. Just as important, he takes personal responsibility for every viticultural and winemaking decision. This process begins by selecting sustainable or organic vineyards he is inspired to work, and at times, pruning them himself. From there, David personally ushers each wine from grape sorting to bottling, working to perfect each vintage of Fulcrum Pinot Noir.
"When you take complete responsibility for every aspect of a wine, there are no excuses," says David. "These wines are true expressions of their sites, but they also reflect my choices as a winemaker. Great vineyard have inherent qualities that make them great, but it takes craftsmanship to let the character and complexity of a vineyard shine through."
THE FULCRUM TEAM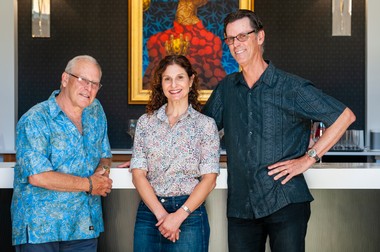 Fulcrum's tasting room team in Sonoma is the backbone of the winery. Anne Berke, Robert Mandel and Don Jeffries spend their time greeting and educating our guests about our winemaking, vineyards, and wines. Committed to not only sharing our hospitality with our guests, but leaving them with great insights into wine country and what makes Fulcrum wines special.